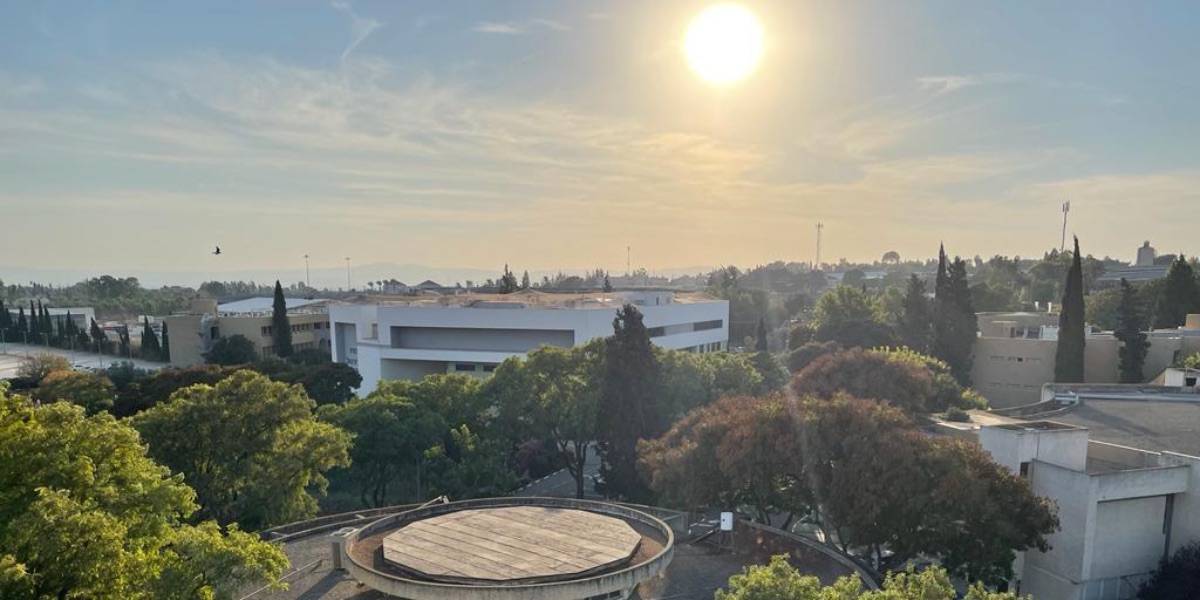 Opportunity for Success Program at Israel's Max Stern Yezreel Valley College Gives Ethiopian Immigrants a Future in Nursing
When Almaz Ben Avraham was growing up in Israel, her home since immigrating from Ethiopia at the age of one, she knew she wanted to be a nurse.  What she did not know was whether achieving her dream would be possible.
After finishing Israel's mandatory military service, Almaz worked to save money to one day afford higher education. When she heard about the Opportunity for Success program at the Max Stern Yezreel Valley College, she knew she had found a way to fulfill her lifelong goal.
The College's Opportunity for Success program provides Ethiopian Israeli women with the financial and interpersonal support they need to successfully complete the academic requirements for a Bachelor of Science degree in nursing. In 2021, the Helmsley Charitable Trust renewed its support for the program with a second grant to Yezreel Valley College, for $660,000. The program, first instituted in the 2009-2010 academic year, helps address Israel's nationwide nursing shortage while also providing Ethiopian Israelis with job training in a program that accommodates Ethiopian culture.
"I now see my life as before the program and after the program," Almaz said. Almaz is currently pursuing a master's degree in nursing at the College and hopes to one day be a professor of nursing. "I feel as though I have become one of the leaders of this program because I promote it everywhere I go. I try to recruit people to apply to the program because I know how much it has given me."
Diverse representation of Ethiopians and other ethnic minorities within nursing is crucial for efficient and quality care of Israel's multicultural population. The program encourages Ethiopian students to ask for any help and support they may need. The College's goal is to create a community of peers with mentors who are dedicated to ensuring the students' success in and out of the classroom.
Mazal Lev-Sorotzkin spent much of her childhood in hospitals. As a teenager, she took on the responsibility of caring for her younger siblings when her stepfather became ill. After her military service, Mazal's grandmother also required care. These experiences inspired Mazal's passion for nursing and caring for others. When Mazal first enrolled in nursing school, her grades suffered as she struggled to find sufficient time for her studies while also working to support herself. Feeling discouraged, she considered quitting her studies. She sought advice from a counselor, who told Mazal about the Opportunity for Success program, and how it would provide her with the financial support she needed to devote her time to her studies and career.
The Opportunity for Success program provided "not only academic and financial support," Mazal said, "but I was also surrounded by people who brought out my own personal leadership skills and qualities that I was able to develop throughout the program and my time in nursing school."
Many graduates view the program's financial support as invaluable. Without it they would not have been able to obtain their nursing degrees or do so as quickly as they did. Almaz and Mazal wonder how long it would have taken them to obtain their degrees – or if they would have been able to obtain them – without the program's financial support and counseling that helps eliminate the biggest obstacles for Ethiopian students pursuing nursing degrees. During COVID-19, the program provided them both with pride and financial confidence during a time of financial uncertainty, especially compared to others in their community. Recently, Almaz's younger sister was inspired to pursue a nursing degree at the College through the program, and Mazal has served as a mentor to her sister as well as other program participants.
Now, Almaz works as a surgical nurse and Mazal works as a nurse in the NICU unit at HaEmek Medical Center. Opportunity for Success is an investment in both students and the future of Israeli healthcare. Helmsley's support for this program will help build the next generation of nurses like Almaz and Mazal, while offering them a path to economic self-sufficiency in a profession badly needed in Israel's healthcare system.