Over the past decade, Helmsley has been dedicated to making sure that the vibrant, tightly-knit communities of the rural, upper Midwest – many of which help feed the United States and the world – have access to the highest quality healthcare.
We invest in telemedicine, fund programs that increase access to behavioral health services, and support hospitals and first responders to make sure they have the best equipment to treat their patients. We do this by working hand-in-hand with a range of partners across the region – including but not limited to non-profits, health systems, law enforcement agencies, universities, first responders, and public health services.
We work closely with partners across eight states – Iowa, Minnesota, Montana, North Dakota, Nebraska, Nevada, South Dakota, and Wyoming. The models that are proving to be successful in this region hold the promise to transform care in other rural communities across the country.
Investing in Telemedicine
Telemedicine is an essential solution for addressing our country's healthcare crisis, especially for rural America. We partner with organizations to make it more accessible for patients, healthcare professionals, and providers.
Our grants have helped develop the first-ever national telehealth certificate program to make sure telehealth care is high quality and consistent.
We bring specialized care to emergency rooms and enable virtual training for healthcare workers on the frontlines of COVID-19 care.
Expanding Access to Behavioral Health Services
Our investments have helped build a 24/7 telemedicine behavioral health team. We fund training fellowships as well as telehealth.
We support a pilot initiative that uses video conferencing to help law enforcement connect people with mental health professionals during an emergency.
We've pledged $13M to help create an adolescent behavioral health center that will serve four states and include a first-of-its-kind behavioral health urgent care.
Ensuring Availability of Modern Equipment and Technology Wherever It Is Needed
Our grants aim to provide connected-device Automated External Defibrillators (AEDs) to every first responder, as well as state-of-the-art diagnostic tools to hospitals across the upper Midwest. We've also helped deliver nearly 400 LUCAS mechanical CPR devices to rural hospitals to help respond to cardiac events during COVID-19 as well as in the future.
We brought the first-ever Mobile Extracorporeal Membrane Oxygenation (ECMO) with a game-changing, super ambulance-mobile ER to the region.
Published Wed May 12, 2021
Supported by $18.5 million in Helmsley funding, the University of Minnesota is increasing timely access to ...
Since the early days of the COVID-19 pandemic, Helmsley has allocated funding towards emergency grants to fight the spread of COVID and protect the communities that need it most.
Our funding decisions were based on what we learned from conversations with many of our grantees about where grant dollars would be most helpful.
Learn more about our COVID response in a blog post by Trustee Walter Panzirer, published in Grantmakers in Health's blog here.
Mental illness is not always visible to others, but the pain it causes is very real. KELOLAND highlights how our recent grant will help our neighbors in Sioux Falls here. 
AEDs save lives. Getting life-saving tools into the hands of those who get there first improves the chance of survival.
Learn more about our recent $4 million grant to make this a reality in Wyoming.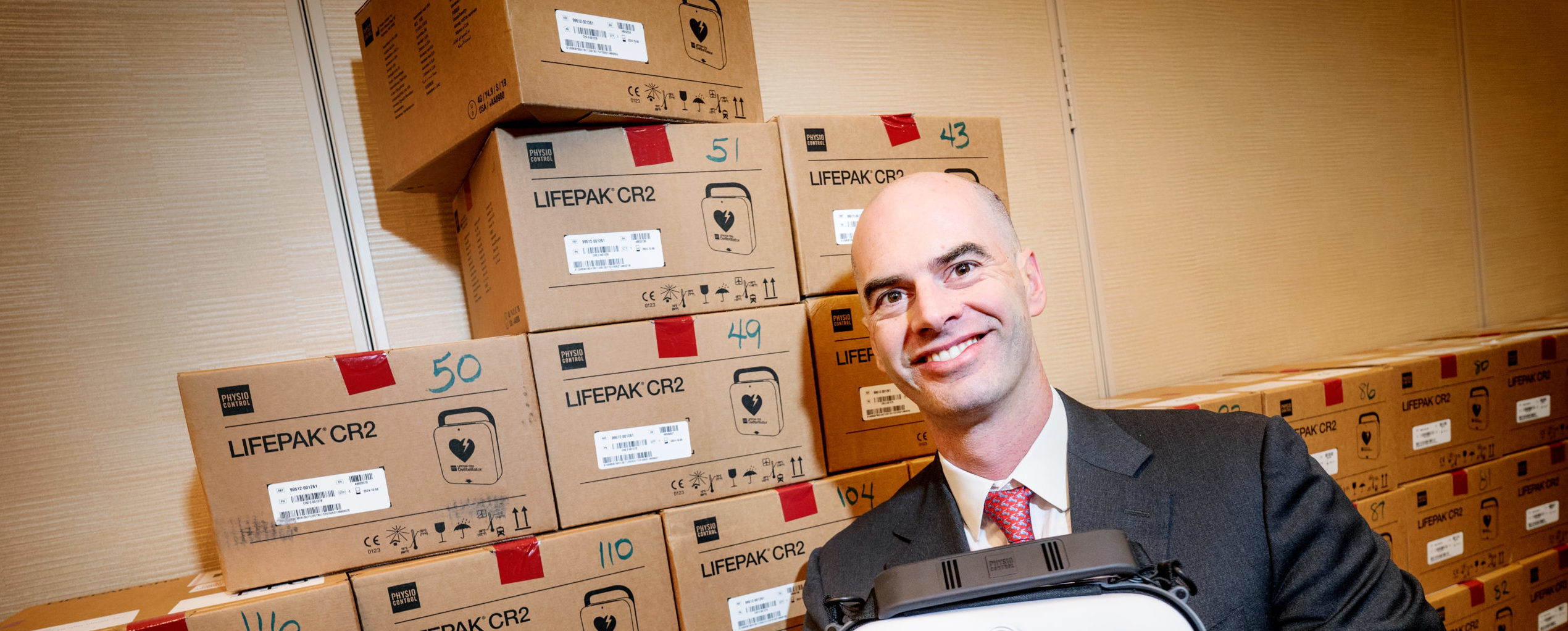 PIERRE, S.D. (July, 30, 2020) – Technology will provide South Dakota law enforcement and court services officers with access to mental health expertise in the midst of a crisis...
At Helmsley, we pride ourselves on being nimble, listening to grantees, and responding to the needs of our communities of focus. Within two weeks, we went from concept to...
Not every healthcare worker caring for patients during the surge of COVID-19 will have recent experience using ventilators to help their patients...
---
To address the threat of COVID-19, lawmakers in March relaxed regulations preventing medical providers and ...
---
In 2019, Helmsley granted $14.2 million in funding for rural hospitals to purchase advanced x-ray technology. Recipients ...
---
Fallon Medical Complex's eEmergency services ensured life-saving care in three separate pediatric trauma cases ...
Recent Grants
Pawnee County Memorial Hospital
Amount: $175,529
Term of Grant: 36 Months
Date of Award: 06.22.2021
Veterans Memorial Hospital
Amount: $403,870
Term of Grant: 36 Months
Date of Award: 06.22.2021
Monument Health Network, Inc. for the Monument Health Sturgis Hospital
Amount: $187,636
Term of Grant: 36 Months
Date of Award: 06.22.2021
Madison County Memorial Hospital
Amount: $165,113
Term of Grant: 36 Months
Date of Award: 06.03.2021
South Dakota Broadcasters Association
Amount: $1,110,000
Term of Grant: 12 Months
Date of Award: 12.03.2020
Mitch Krebs is the Program Director of Helmsley's Rural Healthcare Program which seeks to improve access to and quality of care in the upper Midwest.
Prior to joining Helmsley, Mitc...
Read More
Kristen Bunt is a Program Officer for the Helmsley Charitable Trust's Rural Healthcare Program. Kristen brings more than 25 years of healthcare experience to her role as Program Officer. In this rol...
Read More
Wayne Booze is a Program Officer for the Helmsley Charitable Trust's Rural Healthcare Program. Currently, he is focusing on the expansion of access to the best standard of diagnostic care for women...
Read More
Scott Johnson is a Program Officer for the Helmsley Charitable Trust's Rural Healthcare Program. In this role, Scott assists with Helmsley's efforts in rural behavioral healthcare.
<...
Read More
Elizabeth Ruen is a Program Officer for the Helmsley Charitable Trust's Rural Healthcare Program. In this role, she oversees a growing portfolio of healthcare delivery, cancer care, and conservat...
Read More
Alicia Cotton is the Administrative Assistant for the Rural Healthcare Program in Helmsley's Sioux Falls office.
Born and raised in South Dakota, Alicia has been dedicated to many l...
Read More