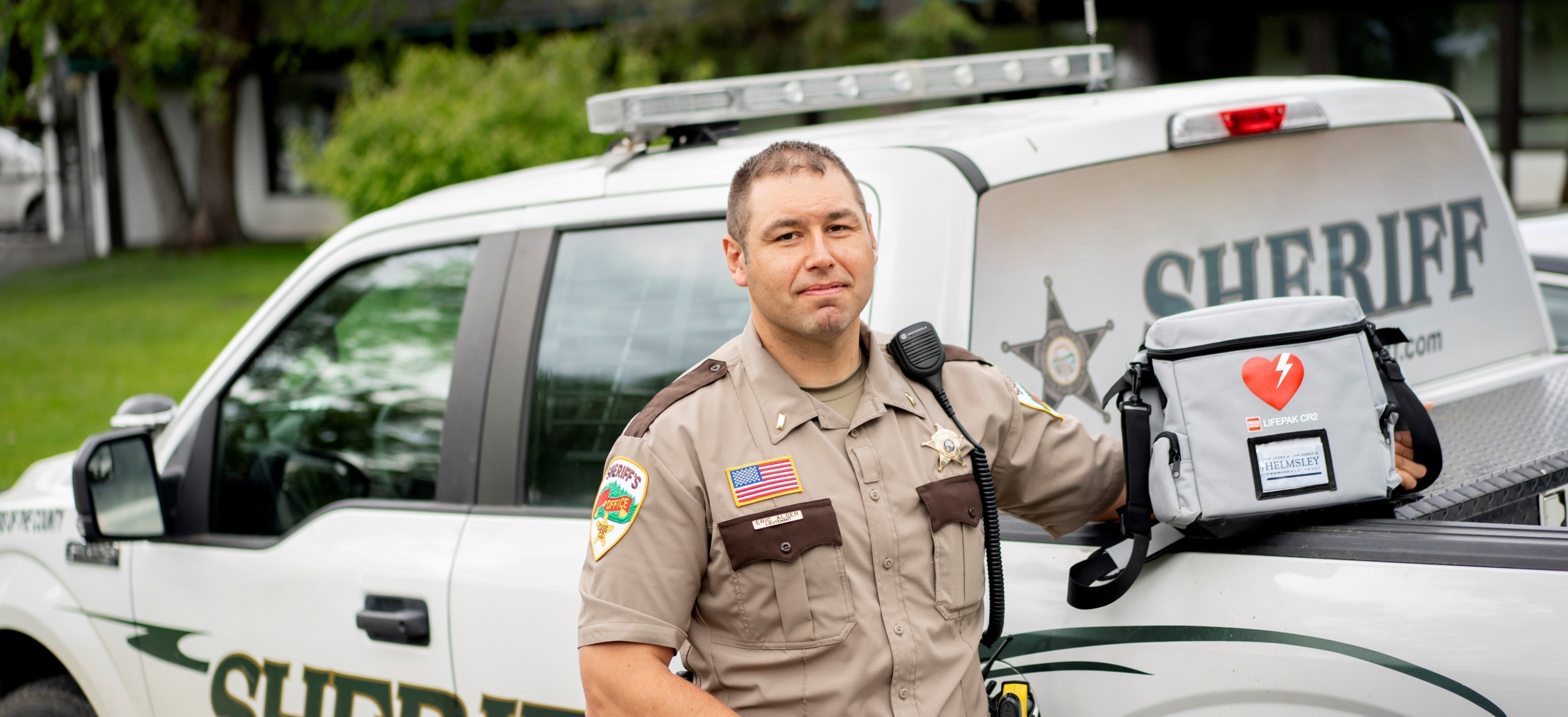 $6.9M Helmsley Charitable Trust Grant to Equip Nevada Law Enforcement Officers with Life-saving AEDs
LAS VEGAS, October 12, 2022 — Law enforcement officers and first responders throughout Nevada will receive equipment to help victims of cardiac arrest thanks to a $6.9 million grant from The Leona M. and Harry B. Helmsley Charitable Trust. In partnership with the Nevada Department of Health and Human Services, the funds will be used to purchase more than 3,000 automated external defibrillators (AEDs) to improve cardiac arrest survival.
The three-year project aims to put an AED in every law enforcement vehicle across the state and train officers and first responders to deliver top-notch care prior to the arrival of Emergency Medical Services (EMS).
"With these devices being placed in the vehicles of first responders who are trained to use them, Nevada's citizens will have an extra layer of security when they call for help," Gov. Steve Sisolak said. "We are so thankful to the Helmsley Charitable Trust for this tremendous gift to our state."
Law enforcement officers are often the first on scene to medical emergencies, and AEDs should be applied within the first three to five minutes of a cardiac arrest to ensure the best possible outcome.
"Seconds count during a cardiac arrest," said Walter Panzirer, a Helmsley trustee. "First responders across Nevada's rural and frontier counties have great distances to cover, and this funding will ensure those who get to the scene before EMS give patients a better shot at survival."
To date, the Helmsley Charitable Trust has granted more than $60 million across Iowa, Minnesota, Montana, Nebraska, North Dakota, South Dakota, Wyoming and Nevada for AEDs, funding nearly 25,000 devices for law enforcement and first responders.
"We've seen tremendous outcomes in other states," said Panzirer. "There have been thousands of deployments, hundreds of cases with shocks delivered, and we know of dozens of survivors thanks to the timely response of law enforcement."
The AEDs analyze heart rhythms throughout CPR, reduce pauses and allow for improved blood circulation to increase the odds of survival. Using Wi-Fi connectivity, these self-monitoring devices can report their status to a centralized online data repository, allowing law enforcement agencies to know their devices are ready or in need of maintenance.
"As a former sheriff's deputy who has been the first on the scene of a major cardiac event and doing CPR while EMS is still 20 to 30 minutes out, I can relate well to the impact this will have on Nevadans," said Doug Oxborrow, manager of the state's Emergency Medical Services for Children Program. "I know that when law enforcement is on the scene doing the best they can, the odds of saving a life during a cardiac event get significantly better when an AED is immediately on hand."
The department will begin distributing the AEDs to law enforcement agencies and training officers this fall.
About the Nevada Department of Health and Human Services
The Nevada Department of Health and Human Services (DHHS) promotes the health and well-being of its residents through the delivery or facilitation of a multitude of essential services to ensure families are strengthened, public health is protected, and individuals achieve their highest level of self-sufficiency. The Department is comprised of five Divisions along with additional programs and offices overseen by the DHHS' Director's Office. For more information go to DHHS.nv.gov.
About the Helmsley Charitable Trust
The Leona M. and Harry B. Helmsley Charitable Trust aspires to improve lives by supporting exceptional efforts in the U.S. and around the world in health and select place-based initiatives. Since beginning active grantmaking in 2008, Helmsley has committed more than $3.5 billion for a wide range of charitable purposes. Helmsley's Rural Healthcare Program funds innovative projects that use information technologies to connect rural patients to emergency medical care, bring the latest medical therapies to patients in remote areas, and provide state-of-the-art training for rural hospitals and EMS personnel. To date, this program has awarded more than $600 million to organizations and initiatives in the states of North Dakota, South Dakota, Nebraska, Wyoming, Minnesota, Iowa, Montana and Nevada. For more information, visit www.helmsleytrust.org.
###
Additional materials surrounding this announcement can be found at:
https://helmsleytrust.box.com/s/c0xzbsyutqqdd1skz8qexb7rbc3y6ae8